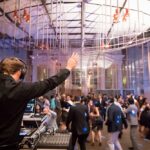 Patrick has been a full time, professional DJ since the age of 20. For over 17 years, his experience ranges from DJ'ing on ESPN for the U.S. Grand Prix Championships, playing for stars such as George Lucas, performing with actors like Alec Baldwin and DJ'ing high end weddings and clubs around the U.S. and abroad. His resume reflects a career of dedication to his passion. Having DJ'd & MC'd over 1,000 events, Patrick can confidently move your event along with style and grace.
Patrick also combines past experience as an event planner and live musician, giving him a wide range of skills – more than your average DJ. He has a knack for 'reading the room' and knowing what to play next, adjusting on the fly to keep the dance floor packed and happy. His musical Loves include 90s Hip Hop & R&B, Funk, Top 40, EDM and Reggae, but is well versed in everything from Big Band, to Latin, to Soul. Patrick ensures your event runs smoothly, making sure every aspect of the day flows together perfectly with seamless MC'ing and INCREDIBLE music.
DJ Saint Patrick Demo Mixes
These mixes don't represent a music 'program' that would be played at your event, but rather a small sample of the diversity Patrick can provide. YOUR REQUESTS drive the music selection and Patrick goes above and beyond to develop unique sets for each event he performs at.
Some of these demos contain short clips of songs, quickly mixed. This is done to give you a way to check out Patrick's style without having to listen to an hour long mix. Rest assured, we usually let the majority of a song play before mixing into the next song. Make sure to scroll down the list to hear all the mixes. ENJOY!